A Study in Violet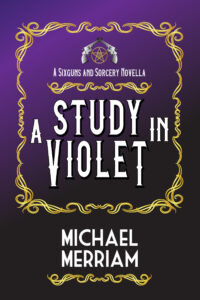 The brutal murder of a nobleman with connections to British and Fae nobility sends ripples of shock through the country. Arkady Bloom, half-fae Agent of Her Majesty's Secret Service Supernatural Division, is commanded by the Crown to assist the Metropolitan Police in their search for the killer. As the body count rises, the delicate peace between Humans and Fae threatens to break. As Bloom races to solve the mystery, he is pitted against not only a mysterious murderer, but a shadowy organization threatening the British Empire itself. And now Bloom might just be the next target…
Purchase here from Amazon in both physical and e-book format!
~~~~~~~~~~~~~~~~~~~~~~~~~~~~~~~~~~~~~~~
Not Enough Midnights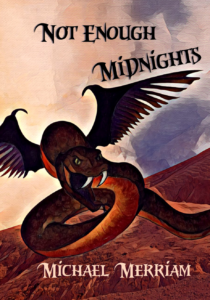 When several families vanish under mysterious circumstances and the sheriff investigating is driven insane, disgraced ex-U.S. Marshal Jefferson Stottlemyre is called back into federal service by order the President of the United States.
Now Stottlemyre, aided by his old friends Deputy Marshal William Blenchy and Lady Priscilla Talbot of the British Secret Service Supernatural Division, must unravel the mystery of who – or what – is murdering settlers around Binger, Oklahoma Territory.
Gathering allies and gaining enemies, the group must deal with rogue treasure hunters, a cavalry troop reluctant to fight, a horde of hidden Native American drummers, terrified townsfolk, and a mythical monster turned deadly reality on the prairie.
Not Enough Midnights is available in print and kindle from Amazon.
~~~~~~~~~~~~~~~~~~~~~~~~~~~~~~~~~~~~~~~
Horror at Cold Springs

When a disparate group of travelers find themselves stranded in a ghost town on the western Nebraska frontier, will they unravel the mystery of the missing townsfolk and survive to tell the tale?
The Horror at Cold Springs is currently out of print.
~~~~~~~~~~~~~~~~~~~~~~~~~~~~~~~~~~~~~~~
The Curious Case of the Jeweled Alicorn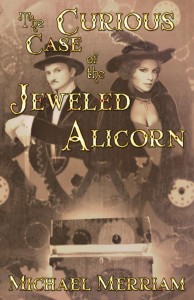 Arkady Bloom, Agent of Her Majesty's Secret Service, Supernatural Division, becomes embroiled with a deadly Italian spy, Turkish airship pirates, rebels bent on freeing India from British rule, a cursed artifact, and a statuesque sorceress with a steam-powered dragonet. However, the greatest danger Bloom faces may be his own torn loyalties.
The Curious Case of the Jeweled Alicorn is currently out of print.