Welcome to the internet home of Michael Merriam, author of fantasy, horror, steampunk, and weird westerns!
You can learn more about me here and my work on my bibliography page.
Here you will find the latest updates about my most recent projects. Upcoming appearances are listed here. Everything you need to know about following me online is at this link.
Thanks for visiting! If you have any questions, comments, or concerns, feel free to contact me – but please don't send any unsolicited material for me to read or critique. Such things will be deleted unread for legal reasons.
Recent Projects
Coming Soon!
Charming Mayhem
A Sixguns & Sorcery Omnibus featuring the first four novellas in the series, plus all-new material! Coming in January 2024.

One week to save the child, bargain with Death and get the girl…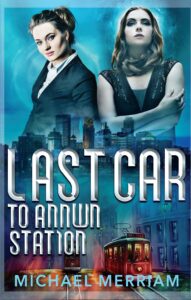 The Latest in the Sixguns and Sorcery Series:
A Study in Violet
Special Agent Arkady Bloom finds himself the next target of a shadowy organization murdering British and Fae nobles.