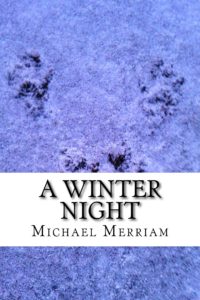 Ranging from short slice-of-life moments to encounters in the wilderness, to speculative futures, Michael Merriam's 26 poems run the gamut of human emotions in this exciting new collection.
A Winter Night is available in print from Amazon.
~~~~~~~~~~~~~~~~~~~~~~~~~~~~~~~~~~~~~~~~~~~~~~~~~~
Beware the Dreaded Thesaurus tells us what happens when words run amuck. This whimsical piece appeared in the poetry anthology Down Peaceful Paths published by Quill Books in October, 1990.
Cindy, a poem that explores what comes after the end of the fairy tale, appeared in The Shantytown Anomaly #4 in January, 2007.
I Took the Tear is a long science fiction poem about love and time dilation. It was published in print in the April 2007 issue of Illumen.
In the Void is a science fiction poem exploring themes of faith and exploration. It was published in the August 2006 issue of The Shantytown Anomaly.
The Problem Was, a short poem looking at the lives of those who have to clean up the mess left by zombies, aliens and Ragnarok–and the effect it has on their families–was published in Andromeda Spaceways Inflight Magazine #36 in September 2008.
Sixth Son, a long poem riff on–and poke at–secondary fantasy tropes, was published online at Gryphonwood in April 2008.
Susan Responds appeared in the autumn 2009 issue of Illumen. In this short poem, Susan Pevensie responds to both Aslan and Lewis on the matter of whether she is a friend to Narnia or not.
T.V. Land is a short poem about wanting an easier life than one has. It appeared in Midnight Serenade way back in June of 1991.
Where the Leftovers Go is a whimsical fantasy poem for children. It was published in the January 2007 issue of Beyond Centauri.