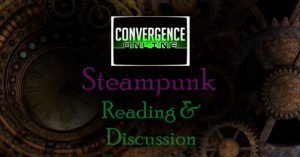 I will be part of a virtual steampunk reading and discussion on the 24th at 2:00 pm as part of virtual CONvergence.
CONvergence Online brings CONvergence squee to you—wherever you are! All CONvergence Online events are FREE. Panelists will read from and discuss steampunk.
Panelists:
Catherine Lundoff, publisher of swashbuckling steampunk adventure Wireless and More Steam-Powered Adventures by Alex Acks
Michael Merriam, author of Weird West steampunk novella in the Sixguns & Sorcery universe.
Abra Staffin-Wiebe, author of post-apocalyptic steampunk novel A Circus of Brass and Bone
Tyler Tork, author of newly released steampunk mystery The Deep End.
(Free) Registration Here: https://convergence-con-org.zoom.us/webinar/register/WN_sz53PUPiSFulsXmrogwI-Q
Posted in
Uncategorized
Comments Off

on Upcoming Steampunk Reading and Discussion