The Reverend Selena Xena Merriam 1997 – 2012
This page is now a memorial to a beloved friend who has passed from our lives. Below is the story of how we came to adopt the Reverend Selena, how she became ordained, and a poem on her passing.
~~~~~~~~~~~~~~~~~~~~~~~~~~~~~~~~~~~~~~
As seems obligatory for any serious writer, here I must include a photo and biography of my cat. The following info was written by my Beloved Spouse:
How Reverend Selena acquired her full name and title.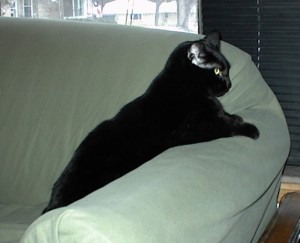 First I should explain how she came to be with us. Michael and I had picked out the name Selena before we even went to the adoption shelter to choose a feline companion. We knew we wanted a female black cat, because we enjoyed the witchy cliché, and the similarity to the name of a moon goddess just completed the package elegantly. The name originally came from a beloved D&D character I had ages ago. Is that geeky enough for ya?
The shelter had two black female kittens ready for adoption. One hid inside the kitty furniture when we tried to socialize with her. The other, in spite of grogginess and stitches from her recent spaying, climbed Michael's pant leg and coat, perching atop his (very high) shoulder, as if to say, "Get me out of here!" Guess which one we picked.
The kids who volunteered at the shelter had gifted the kitten with the name Xena. This should give you further sense of her personality, but I suspect it's also due to the ululating battle cry she uses when observing birds or squirrels out the window, or perhaps to her warrior-princess build. The kid helping us seemed disappointed that we had had a different name picked out for her, so I promised we'd keep Xena as her middle name. Since it rhymes with Selena, we usually abbreviate it to the initial.
The title Reverend came later. I had signed up for one of those new age book clubs, and I used the name Selena X. Merriam on the membership form. I was curious to see how many other companies bought their address list, and would unwittingly send mail offers to our cat. As we had expected, Selena received catalogs and mailings from a variety of new age, pagan, occult, and spiritually-minded organizations. The best and most memorable, of course, was the unsolicited Certificate of Ordination. It reads:
Selena Merriam:
having been chosen as a person "of good report, full of the Spirit and of wisdom," and capable of serving well, was set apart publicly to the office and work of
Minister of God
by the Order of Holy Spirit on this 16th day of November, 1998.
It is signed by one Cardinal Schmitt, who may or may not have been aware of the fact that he was ordaining a member of the Felidae family. Naturally, we framed the certificate, and it hangs in a place of honor in the den. So ladies and gentlemen, I give you Reverend Selena X. Merriam.
~~~~~~~~~~~~~~~~~~~~~~~~~~~~~~~~~~~~~
Nil Igitur est Mors Ad Nos*
The Gatekeepers gasp, gaze in bewilderment at
blood let from sliced immortal flesh thought invulnerable, staining robes, tunics, and cloaks.
They look to their lists and scrolls and tablets
spy the dread name, tremble their first.
Soft whisper of paws –
Hint of whiskers –
Flash of whip-like tail –
She has arrived.
Ring bells, sound trumpets, call the alarm,
for she has slipped silent into the green forests of eternity.
Reborn is the hunter, returned is the warrior.
The Gods shall peer into green eyes fierce and cool,
and they shall know her name.
*Death, therefore, is nothing to us.