Not Enough Midnights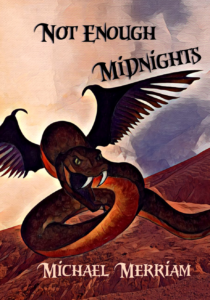 When several families vanish under mysterious circumstances and the sheriff investigating is driven insane, disgraced ex-U.S. Marshal Jefferson Stottlemyre is called back into federal service by order the President of the United States.
Now Stottlemyre, aided by his old friends Deputy Marshal William Blenchy and Lady Priscilla Talbot of the British Secret Service Supernatural Division, must unravel the mystery of who – or what – is murdering settlers around Binger, Oklahoma Territory.
Gathering allies and gaining enemies, the group must deal with rogue treasure hunters, a cavalry troop reluctant to fight, a horde of hidden Native American drummers, terrified townsfolk, and a mythical monster turned deadly reality on the prairie.
Not Enough Midnights is available in print from Amazon and will soon be available in ebook format.
~~~~~~~~~~~~~~~~~~~~~~~~~~~~~~~~~~~~~~~
The Curious Case of the Jeweled Alicorn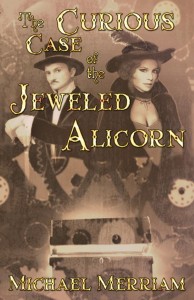 Arkady Bloom, Agent of Her Majesty's Secret Service, Supernatural Division, becomes embroiled with a deadly Italian spy, Turkish airship pirates, rebels bent on freeing India from British rule, a cursed artifact, and a statuesque sorceress with a steam-powered dragonet. However, the greatest danger Bloom faces may be his own torn loyalties.
The Curious Case of the Jeweled Alicorn is available in print from Alban Lake Publishing and in ebook format from Amazon and Smashwords
~~~~~~~~~~~~~~~~~~~~~~~~~~~~~~~~~~~~~~~
Should We Drown in Feathered Sleep

A New Order
A new world is emerging years after war destroyed society. In a Minnesota lake, the last surviving loons, direct descendants of the legendary First Pair, await the one who can help heal the earth. Each year a human sacrifice is brought to them to be endowed with special gifts, but they come at a terrible price.
A Free Spirit
Even as the rest of the world rebuilds, Grace Kriske's life is shattered. Unable to walk, she feels utterly dependent on her family and trapped in a community that disapproves of her rebellious ways. Grace's only solace is her lover, David Tvedt, a trader who wants to take her away with him—if she'd let him.
An Impossible Choice
Yet something else calls to Grace—the loons. They haunt her dreams, lurking in her mind as if part of her deepest primal self. But when Grace is chosen as the new sacrifice, she's afraid. Will she risk everything to help the community that shuns her, or will she choose her own path?
Should We Drown in Feathered Sleep was long-listed for the Nebula Award in 2010 and is available in ebook at Carina Press,  Amazon, and Barnes & Noble, and in audio format at Audible
~~~~~~~~~~~~~~~~~~~~~~~~~~~~~~~~~~~~~~~
The Horror at Cold Springs

When a disparate group of travelers find themselves stranded in a ghost town on the western Nebraska frontier, will they unravel the mystery of the missing townsfolk and survive to tell the tale?
The Horror at Cold Springs is available in print from Alban Lake Publishing and in ebook format from Smashwords