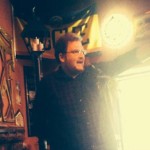 Tuesday June 21st – 8pm to 10pm
Kieran's Irish Pub
85 North 6th Street
Minneapolis, MN 55403
Visit the Website
I will be the featured storyteller at this speculative fiction open mic event. I will be telling a new piece I am writing just for this show. Ghost Trains! Hover Buses! Colliding Timelines!
Details
"Stories of the sort I am describing…they cool us…hence the uneasiness which they arouse in those who, for whatever reason, wish to keep us wholly imprisoned in the immediate conflict. That perhaps is why people are so ready with the charge of 'escape'. I never wholly understood it until my friend Professor Tolkien asked me the very simple question, "What class of Men would you expect to be most preoccupied with, and most hostile to, the idea of escape?' and gave the obvious answer: jailers."
– C.S. Lewis, On Stories
ABOUT THE SHOW
Have you ever imagined a world whose laws of physics differ from our own? Welcome to the Twin Cities' first open-mic dedicated to speculative fiction: fantasy, sci-fi, supernatural horror, or anachronistic interpretations of myth! Sign up for 5-7 minutes, and tell us about a place of which we've never dreamt.
TIME
Doors and sign-up at 8pm, show at 8:30pm.
FEATURE
Tuesday, June 21st, 2016: feature performer MICHAEL MERRIAM!
http://www.wordsprout.org/the-not-so-silent-planet-a-speculative-open-mic.html