Director Cassandra Snow posted a photo from rehearsal of the show I wrote and she is directing. I am super excited!
To quote Cassandra: "Some lovely lady lovin between our protagonist Melissa Ballister (Valerie Borey) and Nurse Summers (Anna Lakin) in rehearsal for At The Edge of Flight."
Edited to Add: Cassandra tells me the photo and quote are credit Edie Rose, Gadfly's Social Media Manager. Thank you, Cassandra and Edie!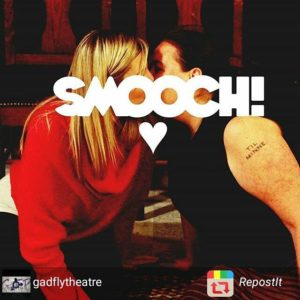 More information about the Final Frontier Festival: https://www.facebook.com/events/965263570223740/
More information about Be Our Hero – Eat Pizza!:
https://www.facebook.com/gadflytheatreproductions/
Buy your tickets and support local writers, artists + directors:
http://finalfrontierhandv.brownpapertickets.com/